Sister Bay Athletic Club offers Yoga Trapeze Fitness classes in their Door County studio. Yoga Trapeze Fitness offers two important things that are missing from traditional mat-based yoga; functional movement of pulling, and spinal traction. During class upper body, core and grip strength is built. It also allows for passive backbends and spine decompression.

What People Have to Say About Yoga Trapeze Fitness
Gretchen Johnson, certified Yoga Trapeze instructor was quoted, "What I love about teaching yoga trapeze is seeing my students combat the fears of hanging upside down, and build strength in ways they would never do on their own. I personally experienced healing of my wrist fracture that I couldn't do in physical therapy. Yoga Trapeze not just helped heal, but built improved grip strength and flexibility in my wrist that I actually didn't have prior to my accident. Grip strength is something that we have as children on the monkey bars, but as adults we lose it. Students are always surprised at how challenging the class is, and how quickly they build their strength." Gretchen is also the General Manager at the Sister Bay Athletic Club and inspires to offer more exciting and unique classes with all of the talented teachers at SBAC.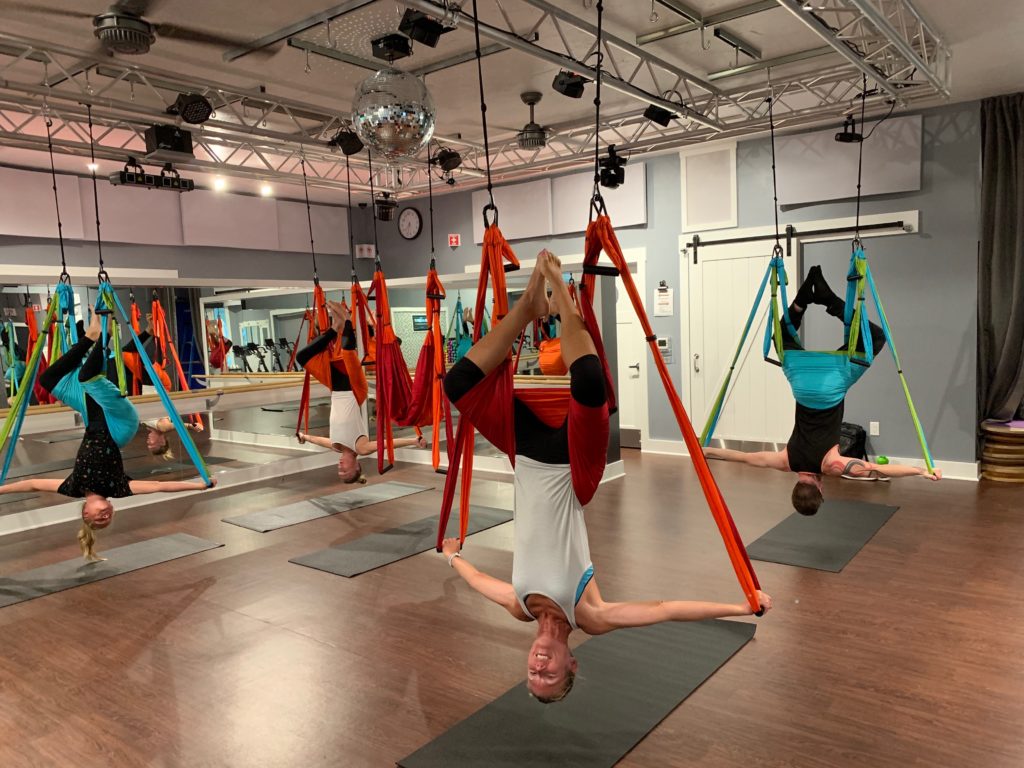 Donna Fearing, a Yoga Trapeze enthusiast, was quoted "yoga trapeze has changed me in so many ways. I have gained strength and I've overcome my fears of flipping upside down. Class is so fun, but challenging as well – everything I look for in a class!"
Yoga Trapeze is offered as a group class or can also be booked as private instruction. While this is an intense fitness class currently offered, Sister Bay Athletic Club will be offering a gentle low flow class in the future as well. Additionally, new student semi-private sessions will be opening up on Saturdays in January at 1:30. These sessions will allow for students to get comfortable with the basics in a 30 minute "get to know your Trapeze" session. Book online on our website for the full class or a "get to know Your Trapeze" session.