InBody270
Body Composition Analyzer
Measure Your Fat, Muscle and Water levels in a few seconds.
The InBody270 is a Professional Body Composition Analyzer that allows you to have a true measurement beyond the scale to reach your wellness goals.
In just seconds, the InBody270 scans you and tells you more than just your weight. Here are a few things you will learn from your Body Composition scan:
Body Analysis – (how much water, protein, minerals, body fat mass, and weight)

SMM – Skeletal Muscle Mass

Body Fat Mass

BMI – Body Mass Index

PBF – Percent Body Fat

Segmental Lean Analysis

Recommended Ideal Weight

Lean Body Mass

Basal Metabolic Rate

Body Composition History
All you need is
15 seconds!
Ex: InBody Scan Results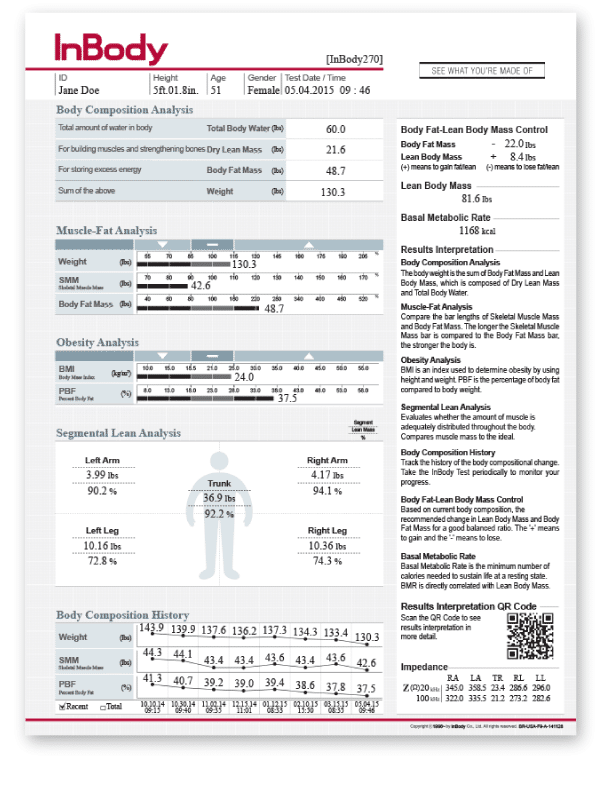 One of our SBAC personal trainers will conduct your InBody analysis in a private environment and review the analysis with you. As a result, you will be able to see your progress on paper. We recommend an InBody at the beginning of your fitness journey and then incremental check-ins to see the hardwork paying off.
$35 (FOR MEMBERS)
$55 for non-members
Look Beyond Your Weight & See What You Are Made of!
We're here to help you reach your fitness and wellness goals, and the InBody270 will help you do just that!
Click, call or email to schedule your InBody270 consultation!