Meet Our Staff: Tony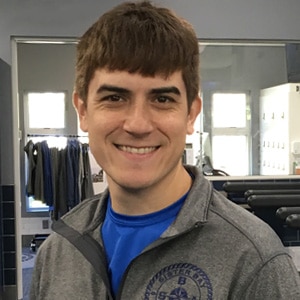 Tony is our operations manager here at the Sister Bay Athletic Club. Tony was born in New Mexico where he lived for a few years before moving to the suburbs of Chicago. This is where he grew up, went to college and met his wife. Tony studied at Western Illinois University where he graduated with a degree in Kinesiology, which is the study of the mechanics of body movements. He then took his degree and studied massage therapy where he has helped many people over the past nine years. While anatomy and how the body moves is fascinating to Tony, he also was drawn to the less stressful atmosphere of massage therapy and helping people.
Many of Tony's clients and Mae, his wife, talked about how wonderful Door County was, so he agreed to make the move. In 2017, they settled into Door County life and are happy they did. Tony loves the atmosphere and the small town feel Sister Bay offers. Finding his home at the Sister Bay Athletic Club has been great because of the wonderful members and people. He loves the community feel of the County Walk Shops, and he loves what the Club is trying to do for the community as well.
Outside of work you can find Tony in the beautiful outdoors. He enjoys sunny days spent biking or hiking in Peninsula State Park or hanging out at Jacksonport's beach. Tony is a huge fan of Batman comics, collecting seriously for 7 years, he now has too many to count. Before moving to Sister Bay, every month he would head over to his local comic book shop and purchase the new Batman comic. Living up here he now must travel down to Green Bay for his comic book selections. Tony is recently married to Mae, and as they settle into married life, their hope for the future is to start a family to be raised in this wonderful community.