Sister Bay Athletic Club is proud to sponsor Kayla Rowling on her Pro Natural Bodybuilding journey. Kayla is also an SBAC Ambassador, and we're excited to see where this strong and dedicated woman does next! Here is a little background on Kayla:
Name: Kayla Rowling
Born: Alton, IL 05/06/1993 (26 years old)
Kayla Rowling – SBAC Ambassador, PNBA / INBA Pro Bikini Competitor
Occupation: Account Manager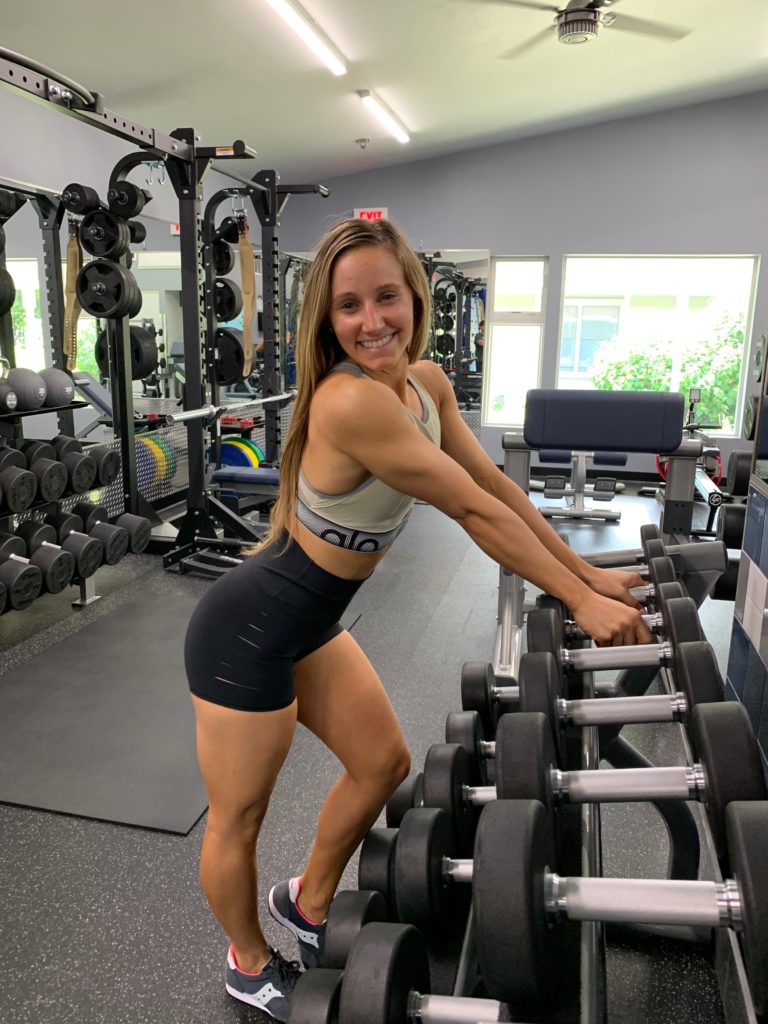 Member of INBA/ PNBA (International Natural Bodybuilding Association / Professional Natural Bodybuilding Association)
Obtained PNBA Elite Bikini Pro Status April 2019 through INBA amateur competition in Chicago, IL
At a high level, the bikini division is the most feminine of all-female classes. Judges look for defined hamstring/glute separation, round shoulders, defined back/triceps, and an overall well-conditioned body. Posing, stage presence, and overall presentation are also very important.

Goals: To compete in the Pinnacle of Natural Sports – The INBA / PNBA Professional Natural Olympia on Saturday, November 16th in Las Vegas, NV representing SBAC and Team USA. Following the competition, I will go into an 8-month offseason, where I will look to build muscle before my next Pro Competition in August of 2020. Long term, I would love the opportunity to compete internationally with INBA / PNBA.

How did I get my start? I was a gymnast growing up and became a cheerleader in high school. I became a competitive cheerleader in college at Northern Illinois University. After my cheer career ended, I naturally gravitated towards weight lifting because it gave me the same rush of endorphins I enjoyed as a competitive cheerleader. I dabbled in Crossfit for 3 months after college, before investing in a personal trainer, to learn how to lift properly. Since then, I have become obsessed with all components of how to build my body, while also developing the discipline required to be a competitor in the bodybuilding sport.

Why is training important to me? Training provides structure to my life, and the discipline obtained from sticking to a plan is a transferrable skill I bring with me outside of the gym. When I train and eat properly on a consistent basis, I see changes in my body. These changes increase my belief in myself and my confidence. Training is also a huge outlet for my stress and reduces my fear and anxiety about the future. It makes me more resilient and while training I feel like my most authentic self.

What got me into bodybuilding? Initially, the interest was because I liked the way bodybuilders looked, and how they took care of themselves. Once I learned more about the process, I fell in love with it. I love using bodybuilding as a tool to work towards your full potential and challenging yourself daily to become your best self.
My advice: Start small. Set yourself up to win. Make goals attainable and build momentum. The secret to achieving any goal is consistent daily action, and discipline. Take time to educate yourself, but also learn from others who are masters at the craft. Apply their techniques until you find what works for you and your body.

Motto: "We are what we repeatedly do. Excellence, then, is not an act, but a habit." – Aristotle

Training Schedule: In season, when I am looking to maintain muscle and reduce body fat, I train 6 days a week. Fasted cardio for 45 minutes, and a second cardio following my lifting session for 45 minutes. Off-season, with the main goal of building muscle, I lift 6 days a week, with only 30 minutes of cardio daily.
How I found SBAC: I found Sister Bay Athletic Club while I was vacationing in Door County. The facility truly feels like my home away from home, and always exceeds my expectations. They have high-quality equipment, friendly staff, and a variety of classes for all levels! I always look forward to going back and plan my trips strategically following my competitions, to fully experience all Door County has to offer!
We're so proud to have Kayla as our SBAC Ambassador, and look forward to following her progress.