Meet Our Staff: Gretchen Johnson – Yoga Trapeze Instructor, General Manager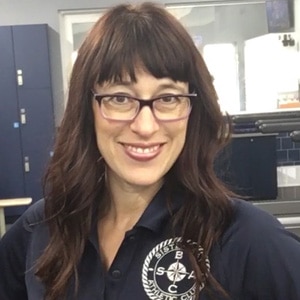 Gretchen was born in Surgeon Bay and her family has lived in the Door County community for a long time. In fact – Gretchen's great grandma is Grandma Tommy, who the store just north of Sturgeon Bay is named after. Though Gretchen was born in Door County, her family moved to West Bend where she grew up. However, Door County continued calling to her, and after college at UW–Oshkosh where she studied international studies, she moved back to Door County to live and eventually raise her family. Gretchen has 3 children. Two of her sons live and work in Seattle. The oldest son is in the Coast Guard, and the younger one works for Microsoft. Her daughter, the youngest of the three, is in High School at Gibraltar.
Working in sales for timeshare establishments in Door County is where she started to find her love of helping people. She then became a realtor and broker before moving into work with Bay Lakes Information Systems. Still working for Bay Lakes, she is not only in sales, but she also helps support her clients by taking the time to train them as well. What sets Gretchen apart from a typical salesperson is her love for helping people, taking the time to find out her client's needs and help find the best fit for their business. This love of helping people is why she loves fitness and technology. With her passions, she finds incredible ways to help people and businesses thrive.
Gretchen is thrilled that at the beginning of May, she will be working at the Sister Bay Athletic Club as their General Manager. Gretchen did not intend to become the GM of the Sister Bay Athletic Club, having started out working a few hours a week for the incredible benefits the Club offers its employees. She loved that the facilities are the nicest, closest, cleanest, and newest in the area. When she realized the club had a need for her love of technology, she wanted to help. Many of you may know of all the incredible technology the club already has, plus some new features that will be rolling out shortly. These exciting additions to SBAC can be attributed to Gretchen's hard work. The key fobs that allow the Clubs members to enter at any time, the GymMaster program that allows members to book personal training sessions from their phone and soon to book fitness classes at the club, and the Wexer digital classes soon to be available in the new classroom/event space. These incredible programs will make it easy for members to book classes, get reminders sent to their phones, confirm registration of classes, and allows enrolled members to enter the classroom space with their key fobs in time for class.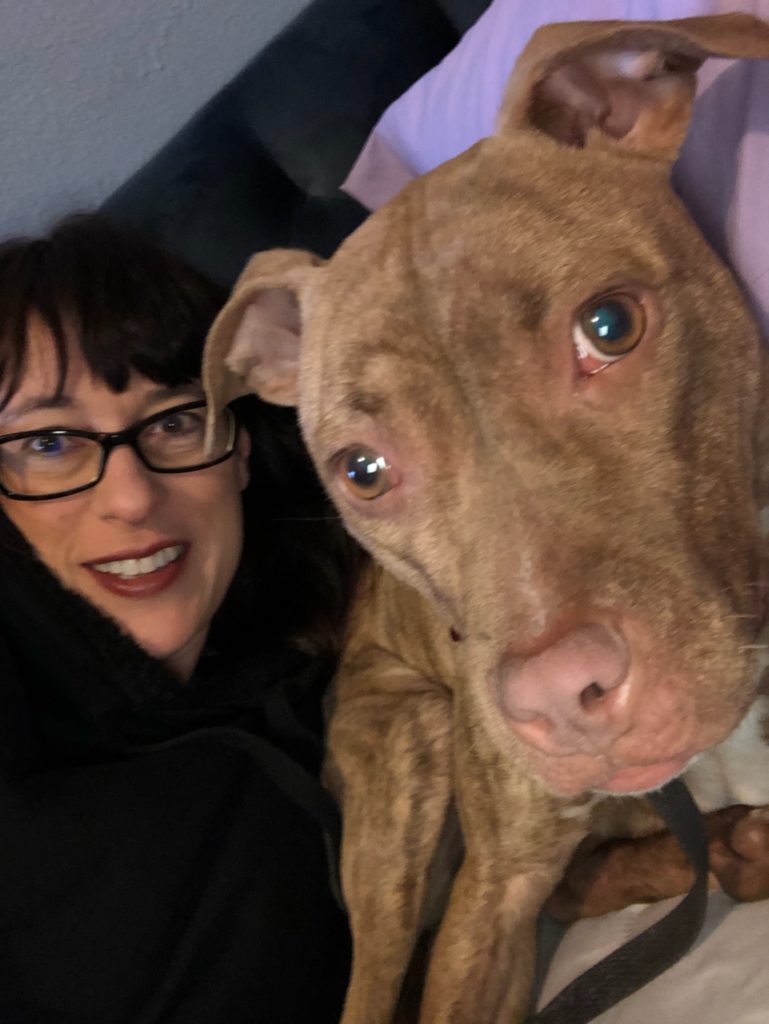 Loving Door County and the community, being on and near the water, yoga, paddle boarding, movement, and helping people, make Gretchen an amazing asset to the Sister Bay Athletic Club team. She is so energetic, hardworking, and loves being busy. She has so much energy, in fact, she once paddle-boarded from Sister Bay to Fish Creek going around Horseshoe Island. Gretchen's husband Patrick works for the Village of Fish Creek and is also a volunteer firefighter and a first responder. Selling and teaching people about essential oils, is another way that Gretchen strives to help people. She is studying to become a personal trainer and is a certified Yoga Trapeze Instructor. Plus, one more thing to add to Gretchen's ever-growing busy lifestyle, her family recently adopted a rescue dog which they named Lacy Ruth.