Stuffed Poblano Peppers Recipe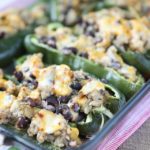 This 5 ingredient stuffed poblano pepper recipe is perfect for a quick healthy weekday dinner!
4 poblano peppers (sliced in half and seeded)
1 lb lean ground turkey
15 oz (1 can) black beans (rinsed and drained)
1 cup salsa verde (divided)
4 oz pepper jack cheese (shredded)
coarse salt and fresh pepper (to taste)
Preheat oven to 400 degrees

Place ground turkey in a large nonstick skillet over medium high heat. Brown turkey for about 8-10 minutes, crumbling with a wooden spoon. Season with a pinch of coarse salt and pepper. Once browned and cooked through, stir in beans and 3/4 cup of salsa and reduce heat. Let simmer for about 3-5 minutes until extra liquid is absorbed.

Line up poblano halves in a 9×13 glass baking dish sprayed with nonstick spray. Spoon in turkey and black bean mixture into each pepper. Top each pepper with spoonful of remaining 1/4 cup of salsa. Cover with aluminium foil and bake 15 minutes.

After 15 minutes, remove foil and top each pepper with a little shredded cheese. Place back into oven and cook for another 5-10 minutes until cheese is melted and peppers are soft.