Peanut Butter Banana Smoothie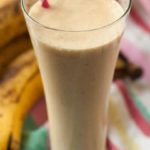 It is so refreshing and it's sweet and tasty.
2 Each Bananas (broken into chunks)
2 Cups Milk
1/2 Cup Peanut Butter
2 Tbsp Honey (To Taste.)
2 Cups Ice Cubes
Place bananas, milk, peanut butter, honey, and ice cubes in a blender; blend until smooth, about 30 seconds.