Tex Mex Breakfast Casserole
This Tex Mex Breakfast Casserole Recipe is a delicious breakfast option that is easy to prepare and always a hit! Don't let the name fool you, this is also a great lunch, brunch or dinner meal – just leave out the word breakfast, and you're in business! A few more great recipes that you might like to try for breakfast would be the Baked Blueberry Oatmeal Recipe, and this fantastic Breakfast Muffin Recipe, or this gluten free Healthy Zucchini Bread Recipe from personal trainer and sports nutritionist, Shannon Carney.
This recipe is perfect as you can make this a day ahead for company, or just make a batch for the weekly meal planning menu. Meal planning is always smart to avoid the fast food trap, or unhealthy choices. Made from scratch is always a smart idea as you know exactly what you are fueling your body. This is always important when working out – you need to fuel your body for best results. You can always take it to the next level by working with one of our talented personal trainers. When working with a personal trainer, it is always smart to take a look at your diet as well. We are what we eat! At Sister Bay Athletic Club we offer personal training, an amazing gym, fitness classes, and so much more!
If you enjoyed this recipe, check out more of our healthy recipes to change up your weekly meal plan!
Tex Mex Breakfast Casserole Recipe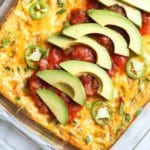 This is a great breakfast recipe because it allows for many variations and flexibility. Simply swap ingredients to allow for taste or dietary restrictions, or you can prep/bake ahead of time for events or holidays.
14.5 ounce can diced potatoes (or 1 3/4 cup diced cooked potatoes)
3 1/2 ounces cooked chorizo sausage – diced ((2 links))
2 cans chopped green chilies (undrained) ((4.5 ounces) )
2 cups shredded Colby-Monterey Jack cheese
12 large eggs
1/2 cup chopped scallions
1/2 teaspoon seasoned salt (such as Adobo)
1 jalapeno (sliced thin)
4 ounces avocado (sliced)
1 cup chunky mild salsa
Spray a 3-qt (9" x 13") oblong glass Pyrex baking dish with cooking spray

Place the potatoes in the baking dish. Top with chorizo, green chiles and 1 cup of the cheese

In medium bowl, beat eggs, scallions and seasoning salt with a whisk until well blended. Pour over potato mixture.

Cover with lid and refrigerate overnight, if preparing the night before.

When ready to bake, remove from the refrigerator and let it come to room temperature.

Pre-heat the oven to 325°F.

Bake uncovered 55 to 60 minutes or until knife inserted near center comes out clean.

Remove from the oven, top with the remaining 1 cup of cheese and jalapeno slices.

Bake 2 more minutes, until the cheese melts. To serve, cut into 10 squares and serve with salsa and avocado.