Breakfast Muffin Recipe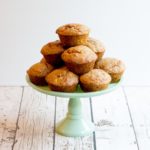 Often times mornings can feel so busy leaving you with little or no time for Breakfast. These nutritious muffins are a perfect way to start your day. A grab and go breakfast that can be made ahead of time helping to fuel your busy day.

2.5 cups all purpose flour
2 tsp baking powder
1/2 tsp baking soda
1/2 tsp salt
2 tsp ground cinnamon
1 tsp ground turmeric
2 medium, very ripe bananas (mashed)
1 cup granulated sugar
8 oz soy, coconut, or cashew vanilla yogurt
3/4 cup non dairy milk
1/2 cup vegetable oil
1/2 cup golden raisins (optional)
1/2 cup chopped walnuts (optional)
Preheat oven to 350 degree Fahrenheit – line a standard muffin tin with paper muffin liners or lightly grease muffin wells

In a medium bowl combine all purpose flour, baking powder, baking soda, salt, cinnamon, ginger and turmeric. Set aside.

In a second medium bowl mash bananas and mix in granulated sugar, non dairy yogurt, non dairy milk and vegetable oil


Add the wet ingredients to dry, mixing until just combined. Stir in Raisins and walnuts.

Pour a heaping 1/4 cup of batter at a time, to fill each muffin well.

Bake 18- 22 minutes until a toothpick or cake tester comes out with a few moist crumbs attached when tested in the center of the muffin.

Remove from the oven and cool on a wire rack prior to serving

Enjoy!