Baked Barley Risotto
This month we have a wonderful Baked Barley Risotto that we would like to share with you. You often see risotto recipes with rice, but this one uses barley instead, which offers a higher level of nutrition. According to the Harvard School of Public Health, barley has more fiber than rice, offering 6 grams of fiber, while rice only offer 3 grams. Also, barley has more magnesium and zinc than white rice.
There is something special about risotto. It must be the creaminess that makes it so amazing. I think it feels like home, and warm cozy blankets. It's interesting how certain comfort foods can bring back great memories! Feel free to play with this recipe. Maybe, make it one time as directed, and then switch out the carrots for mushrooms……. use your imagination and make this your risotto recipe!  We'd love to here how you've changed it, so let us know!
If you hadn't noticed this Baked Barley Risotto is another Meatless Monday (or anyday of the week) recipe. At Sister Bay Athletic Club, we want to offer varied options and share recipes that our staff and friends enjoy. Made from scratch is always best, and saves you from spending more for less nutrition. Feel free to reach out to us for information on personal training and nutrition.
Check out more of our healthy recipes to change up your weekly meal plan!
Baked Barley Risotto with Carrots Recipe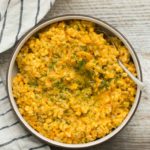 A wonderful, alternative-grain risotto using barley and made extra creamy thanks to pureed carrots and mascarpone cheese.
1 lbs carrots
2 tbsp olive oil (divided)
2 cloves garlic (minced)
1/4 tsp salt
1/4 tsp black pepper
1 cup pearled barley ((300 g))
3 cups low sodium vegetable broth
1/3 cup mascarpone cheese
3/4 – 1 cup whole milk
1 tbsp fresh dill – minced (plus extra for serving )
olive oil for serving
Preheat oven to 375˚F.

Heat a small, 3-quart dutch oven over medium heat. Add in olive oil followed by the minced garlic. Cook for a minute or so, just until fragrant. Stir in the barley and toast, 2 minutes. Measure in vegetable broth. Bring to a simmer, cover, and transfer to the oven. Bake for 45 minutes, checking around the 35-minute mark. Barley should be tender but slightly chewy and broth should be absorbed.
When carrots are done, combine with the mascarpone in a food processor and puree until mostly smooth. Add a ¾ cup of milk and puree again until smooth.
Once the barley is done, add the carrot mixture into the pot and stir until well combined. If the barley needs to be a little creamier for your liking, add the extra ¼ cup of milk (or more, if desired). Finally, add in the dill and stir.

Divide the risotto into bowls, drizzle with olive oil, and sprinkle with dill before serving.

Tips & Tricks: If you don't feel like roasting the carrots, you could steam instead.

If you do not have a dutch oven, any oven-safe pan will work. Just needs to have a tight fitting lid!