Healthy eating isn't hard with this amazing all green smoothie recipe. You can use water as the liquid of choice, or substitute almond, soy or oat milk. Get your veggies and fruits in for the day in one fell swoop!
What do you like to add to your green smoothies? Stay tuned for more amazing smoothies in the future, and make sure to share this with friends!
All Green Smoothie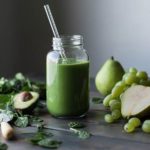 It's so easy going green with this sweet and delicious combination of fruits, veggies, and leafy greens.
1/4 Cup Water
1/2 Cup Pineapple Juice
1-3/4 Cup Green Grapes
1/4 Each Barlett Pear (Seeded & Halved)
1/2 Each Avocado (Pitted & Peeled)
1/4 Cup Broccoli (Chopped)
1/4 Cup Spinach (Washed)
1/4 Cup Ice Cubes
Place all items in smoothie blender, and blend until perfect smoothie consistency has been achieved.